Our Categogies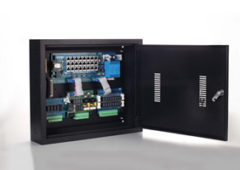 An integrated control system suitable for hotel's room to control lighting, temperature, and curtain in hotel.
Strong communication feature with TCP/IP and RS-485 communication port.
No special cable require, ordinary cat5 cable cab be used.
Centralise manage and control room facility.
All Switches point run in safe low voltage.
Simple to install, operate and maintain.
System Component

Controller Unit (RCU)
Specification

Digital input: 24
5A relay output: 16
100W dimmer: 2
Digital air-con output
5A relay output for roller blind
TCP/IP port
Metallic enclosure
Specification

Digital input: 24
5A relay output: 16
100W dimmer: 2
Digital air-con output
TCP/IP port
Metallic enclosure
Thermostat
Specification

Air-con mode: cooling, heating, fan
12V DC with RS-485 communication
Need to work with DL-BSA1 or DL-BSA2
Specification

Air-con mode: cooling, heating, fan
12V DC with RS-485 communication
Need to work wit